Applying for a job is a lot more work than most people imagine. 75% of all resumes don't get read by a person. If you've spent a lot of time and effort applying to jobs in your field but aren't getting any responses, it can be really frustrating.
Nowadays, getting a job will need a well-written resume that stands out to employers, which is why many people consider hiring a professional resume writing service to tackle the job for them.
Professional resume writing service is often worth it, as it can help you stand out in a competitive job market, by crafting a resume that is both effective and professional that passes the ATS and let you make a good impression on your potential employer.
What Should I Know When Hiring a Resume Writing Service?
A quality resume writing service will have professional writers who do in-depth research on the job you intend to apply for and put the time into your resume to get you the best results. While you won't get an instant turnaround time, you will get a resume that impresses employers.
If you thinking about hiring a resume writing service, here are a few things you should know before you consider hiring one.
1. Know Your Budget
Hiring a resume writing service is an investment in your career. There is a lot of competition and it can be tough to get an employer's attention. Before you start looking at different resume writing services and what they offer, it's important to know that a good service will cost you money. 
When you're looking at the different options out there, you will likely come across various different price points.
Average resume writing service costs around $100 to $900 depending on the type of resume, specialization of the resume, and the quality of the resume writer.
Getting your resume written by a Certified Professional Resume Writer (CPRW) can be more expensive, but paying high dollars for these professionals can sometimes be worth it.
Although it may seem like more than you want to spend, your chances of landing a higher-paying position are a lot better.
2. Know When It's Too Good To Be True
When you're searching for the right service to use, you will have a lot of expectations. Each resume writing service wants to get your attention, so they will advertise their services in a way that best meets customers' expectations. However, a lot of the things that are often promised aren't guaranteed. 
No resume writing service is able to guarantee you get hired.
Resume writing services can't make you sound qualified for a position you're not qualified for. For example, if you want a plumbing job without any plumbing background, a professional writer won't be able to do anything for you.
While a professionally written resume will impress, the service can't guarantee that it will double the number of interviews you get.
Fast turnaround times almost always result in a poorly written resume.
3. View Different Resume Packages
Every person that seeks out resume writing services is at a different stage in their career. The type of resume writing that benefits one customer fully may not be enough for the next.
For this reason, it's important that you choose a resume writing service that offers various different packages. This way, you can guarantee that it is suited to what you want.
It's common to be able to find a basic package that will get you a well-written resume featuring the right keywords for your field.
Other packages are more advanced, offering things like cover letters, LinkedIn profiles, revisions, and other features that can help you along with your job search. Think about what level of services are going to best benefit your resume for the position that you want. 
4. Don't Expect It Overnight
You've likely heard that old expression "good things come to those who wait". Well, this can also be applied to resumes. One thing that will set good writing services from the ones you want to avoid apart is the amount of time it takes. 
Resume factories often offer a fast turnaround time, within 24 hours.
When customers see this, they think "great, I can get to the job search sooner". However, these resumes aren't handled by professionals. A lot of people are disappointed by the results they get and it's common for services that offer a fast turnaround time to make mistakes. 
Your resume is an important step in landing your dream job. You should always pick a resume writing service that values quality over speed of service.
A good-quality resume writing service may take up to a week or longer (3 to 10 business days) to get your resume completed at a level that meets your expectations. 
Why does it take longer?
The professional writers that work for the resume writing services will take their time to make sure they are thorough with every resume they write.
They want to make sure all information is accurate, keywords are used to improve your ranks when applying to jobs online, and there are no mistakes.
5. Always Do Research On The Writing Service
Just because you're paying for a professional service, doesn't mean there's a professional on the other end.
Unfortunately, many resume factories have given resume writing services a bad name. This is because they will often hire writers that are inexperienced when it comes to writing a professional resume.
The resumes also turn out worse than expected because the writer isn't able to directly contact the client. 
There are several qualified resume writing services that can make a difference in your job hunting experience. The trick is knowing how to find them.
Always put thorough research into each company you're interested in seeking services from. Read reviews from former customers to see what their experience is like. 
You should also check out their online presence. Any reputable resume writing service or resume writer will be active online. They will have a brand website, social media accounts, and most importantly, a LinkedIn profile. If you're not 100 % sure which direction to go in, ask a colleague for recommendations. 
Another key thing to look at is the service's credentials. Have the writers received training and certification for resume writing? If not, you should avoid the service.
6. You Have To Do More Than You Think
Did you think you were just going to give the service a copy of your old resume and wait for your new one? It's not as easy as that. While the writer will put a lot of work into your resume, they will need your co-operation to make sure the project goes as planned.
They may reach out to you by email, phone, or text several times before your resume is complete. The first copy usually isn't the last copy either. Once you view the first draft, you'll need to alert the writer of any edits they will need to make.
This is the difference between a good resume writing service and a resume factory. Most resume factories only give you one copy, then you have to make edits yourself. 
7. You Could Make More Money
Are you unsatisfied with the amount of money you're making at your current position and know you have the skills to get a better-paying position?
One of the struggles with landing positions with a higher income is that there is a lot of competition. The organization likely gets more resumes than it can manage. 
A qualified resume writer will be able to sell your skills with confidence in your resume.
This will make a huge impact when it comes to making a good impression before the interview. One of the biggest reasons that people fail at landing interviews is that they aren't highlighting their skills or past experience the right way.
8. Read The Contract Thoroughly
Before committing to a resume writing service, make sure you fully understand what the contract entails. It's very common for services to advertise what sounds right to get customers coming to them, but really offer a spin on what they said. 
For example, some resume writing services will make an offer claiming they can increase the number of interviews you get. However, once you read the contract fully, what that really means is that if you don't get an interview, they will revise the resume without an extra charge. 
It's also important to know whether or not you will be able to receive a revision or update with the resume writing package you sign up for.
There's nothing worse than being under the impression that you've paid for a certain level of services, only to find out you're not receiving them. 
9. You May Not Benefit From One
Let's be honest, a quality resume writing service will cost you a good amount of money. Although many people can benefit from these services, they are necessary for everyone. For example, if it's your first job or you don't have a lot of background experience, then these services may not be worth it for you. 
Professional resume writing services are aimed at people that are looking to upgrade their career position, or are paid at a higher salary range.
A good rule of thumb is that if the position you're applying for pays over $40,000 annually, then you can benefit from the service.
These services are aimed at helping people land positions with more responsibility and a higher salary. 
Should You Get a Resume Written By Professionals?
Resume writing service isn't for everyone, but if you are looking for the best odds of getting your resume in front of your recruiter and getting called for a job interview, or want to get higher pay and invest for your future career.
Investing in a good reputable resume writing service might have a positive impact on your career.
More often than not, investing in a professional resume is often worth it.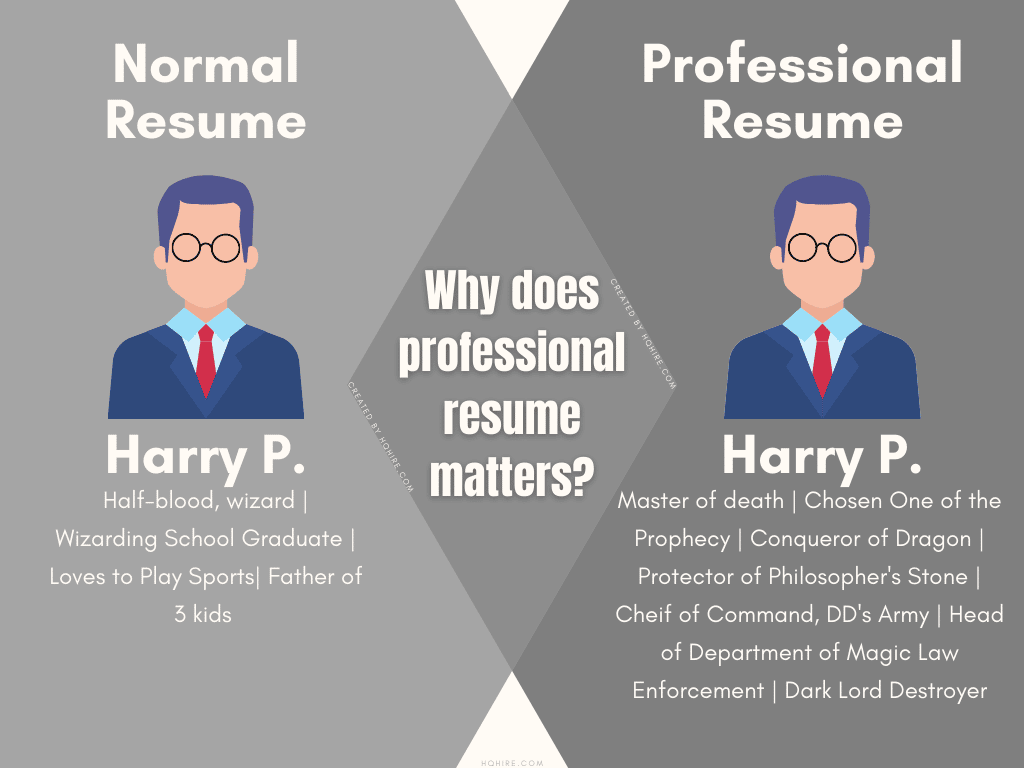 Join over 3,000+ achievers who are committed to achieving their career goals!