Resigning and leaving your job can be scary. As such, it is always good to have a plan before you quit your job.
Getting prepared before you tender your resignation letter is probably the most important thing you'll need to do after you've decided to quit.
Here are a few key actions you can take to prepare to quit your job and make a strategic career move.
how to prepare to quit a job?
Before you quit your job, you need to get yourself prepared in a few areas.
Be financially prepared for the change in your employment status.
Be medically prepared for the change in your insurance status.
Be technologically prepared to part with your office equipment.
Be professionally prepared for smooth transition of work.
Be mentally prepared for counter-offers.
Be emotionally prepared to say your goodbyes with coworkers.
Be totally prepared for career change.
1. Get financially prepare to quit your job
Money is the most important issue when you leave a job. You'll need to be financially prepared to survive and have enough for an emergency fund in case of unexpected events.
How much money to save before quitting job?
Experts recommends, you'll need to have at least 6 to 12 months worth of living expenses saved before you should consider quitting your job. The amount does not include your emergency fund which is 3 to 6 months worth of living expenses.
In total, you will need to save approx. 18 months worth of living expenses before you are secured financially to quit your job with minimal financial worries.
If you have any high interest debt, such as credit cards and student loan debt.
It is recommended that you'll pay off all your debt before you should consider quitting your job.
2. Make doctor and dental appointment before leaving
Medical privileges are expensive. Often, when you are employed your company provide all their employee with company sponsored medical insurance.
Average wait time to schedule a doctor appoint on medical checkup in the United States is 24 days.
Average wait time to schedule a dental appoint on dental checkup in the United States is 6 to 7 days.
Consider booking a doctor or dentist appointment for medial or dental checkup before you leave your job.
Plan ahead and have your appointment spread-out, so your absence won't affect your company and team's operations.
3. Say goodbye to your company's laptop and equipment
Often the company may have issued you some company-provided equipment, such as a laptop or a phone. These equipment will have to be returned when you quit your job.
Your employer will probably review all the files and contacts in the laptop and phone before handing over to the IT department. It will then be reformatted and reissued to a new owner.
Although you are not suppose to use the company issued laptop for personnel use, but often employee do have personal data in the laptop.
You may have used the laptop as if it is your personal laptop, and have all sorts of photos, passwords and website visit history.
Remove all your personal files that you may need, and delete all those that you don't.
Generally, you are not allow to keep the company issued equipment after you leave your job.
PS. Remember, you are only allow to remove your personal files only, never "steal" any company information.
4. Ensure smooth transition of work to new employee
Create a transition plan to pass your current work and projects smoothly to your successor without any incident.
As an exiting employee, it is your responsibility to ensure that your successor is equip with the ability and knowledge to perform the task for your job role.
Although your successor may lack the experience or the capability to excel in your role.
A smooth transition of work should allow your successor to perform in the role where it will have minimal impact to the team's operation.
Steps to prepare transition work to another employee (successor)
List the task and projects to be transitioned to the successor.
Identify successor of the job role.
Communicate the scope and tasks of the job role.
Train the successor to be qualified for the job role.
Allow the successor to shadow the exiting employee.
Exiting employee to assist the successor to be familiarized with the job role.
Exiting employee to leave on a positive note.
5. Prepare to politely decline any counter-offers
When you resign, do prepare for any push backs such as counter-offers. If you have been with the company for a long time, or you are a high-performing employee, your employer will most probably ask you to reconsider your decision with an attractive counter-offer.
What is a counter-offer?
Counter-offers are offer made in response to another offer. When an employee resign, the employer may create an attractive offer to keep a high performing employee from leaving.
Counter-offers helps to retain employees whom have decided to leave.
Should you accept a counter-offer?
No, you should not accept a counter-offer. Accepting a counter-offer will likely damage your relationship with your current employer. Staying because you are offered more money, or a promotion will likely cause them to question your loyalty, and whether you have planned this to happen.
Counter-offers are often used by employers to avoid dealing with the disruption caused by the departure of an employee.
Therefore, do not let counter-offer waver your decision and cloud your judgement.
6. Prepare to say your goodbyes
Saying goodbyes are often hard and emotional. But when you are leaving your job, you will need to part from your coworkers whom you have worked closely for the past years.
It's normal to be emotional, but when you've decided to quit for a better future, don't let your emotions get the best of you.
Thank you and farewell message to colleagues (Examples)
Thank you for giving me a professional home. You became more of a family than a group of colleagues. I'll always cherish our friendships and thank you from the bottom of my heart. Adios amigos!

Today, I leave here knowing more than when I arrived. Thankyou for being my colleagues whom I will now call as my friends. I look forward to continuing strengthening our friendships and all the best my friends! 

With many thanks to all of you for making my time here amazing. Goodbye! You are true professionals and warm colleagues. I will miss working with you and wish you all success in your careers. Farewell and we shall meet again.

I am grateful to have had the opportunity to work with you. Thank you for all your support, and the happy times. While our paths may diverge, we will definitely we keep in contact.

Working with all of you has been such a wonderful experience. Thank you for creating such a welcoming work environment. I wish you all the best and bid you all farewell. Till we meet again.
7. Prepare for your career change
"If you fail to prepare, you prepare to fail."
Leaving a job is a big career change and you need to be prepared for it before you leave your job.
"Career change is scary, but with the right mindset and a solid plan, you can skyrocket your career and find happiness in your future."

– By A.C., editor of hqhire.com
Often, people fall into a profession accidentally, and find meaning and passion in the things they do.
People changes with time, gone are the days where employees work with the same company for 10 to 40 years.
Today, employees have an average of 12.4 jobs from age 18 to 54 as according to U.S. Bureau of Labor Statistics (BLS).
Age 18 to 24: Approx. 6 cumulative jobs.
Age 25 to 30: Approx. 8 cumulative jobs.
Age 31 to 40: Approx. 10 cumulative jobs.
Age 40 to 54: Approx. 12.4 cumulative jobs.
Cumulative number of jobs held from age 18 to age 54 by sex and age.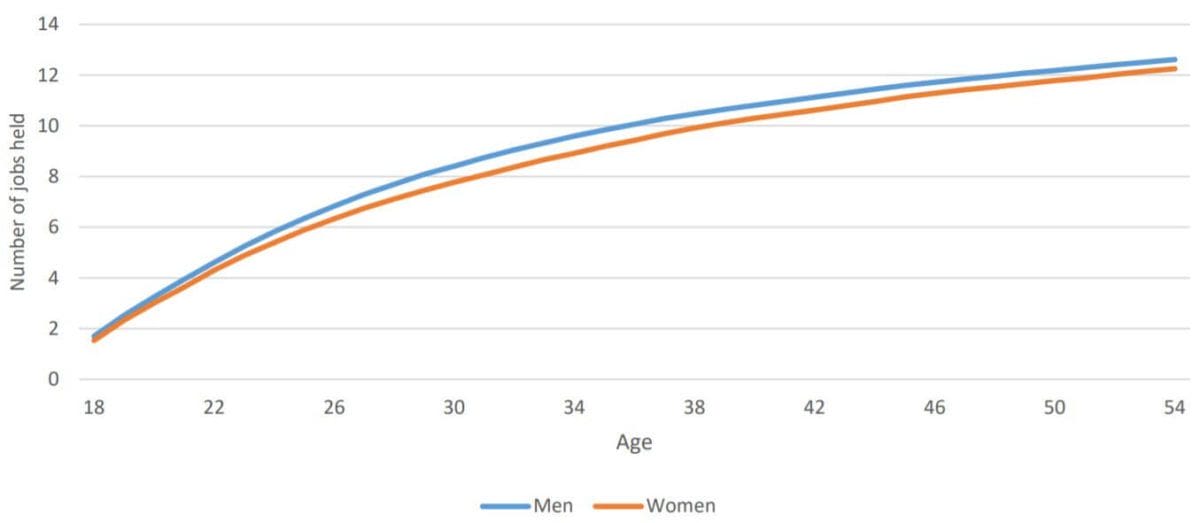 Source: U.S. Bureau of Labor Statistics (BLS)
Learning a new skill can often help you to become more hirable after you quit your job
We've handpicked some of the most popular online courses you might be interested. Click the online courses below to find out more.
Like this advice?
Let us know in the comments below!
Wait a minute…
Do you have a story to share?
Share your story with our community by Clicking "Submit Your Story" below!
Join over 3,000+ achievers who are committed to achieve their goals! 
Disclaimer: We do not provide any family, health, financial, or law related advice. This is a work of fiction and protected by copyright law. The publisher and the author make no guarantees concerning the level of success you may experience by following the advice and strategies contained here, and you accept the risk that results will differ for each individual. All the names, characters, businesses, places, events, and incidents in this site are either the product of the author's imagination or used in a fictitious manner. Any resemblance to actual persons, living or dead, or actual events is purely coincidental.