Studies show, that successful onboarding will improve employee retention by up to 82%. Furthermore, employees are found to be 50% more engaged and satisfied at their new job if their onboarding experience is positive.
With many organizations progressing to onboard their employees remotely. The importance of successful remote onboarding has become critical.
Studies show, that a new hire will have to experience 54 different activities during their onboarding process, which can be quite overwhelming.
What is Remote Onboarding?
Remote employee onboarding is the process of preparing the new hire to be equipped with the necessary skills, training, and resources to work remotely rather than from the office. Remote onboarding is performed virtually via technology, which includes a series of workshops, training sessions, video calls, and exercises.
A great remote onboarding experience for your new employees will need to achieve the following:
Reduce the time required for training and preparing a new hire to become an employee which delivers.
Motivates and increases new hires' engagement and job satisfaction.
Build great rapport and trust with the remote team and cross-functionally.
Here we will discover the most important phases to a successful remote onboarding experience.
PS. Check out our Ultimate Remote Onboarding Checklist!
Recommendations: How do you prepare for your remote onboarding at a new job?
5 Phases Remote Onboarding Process for Remote Employees
Remote employees face a unique set of challenges when transitioning to a new company. A successful onboarding process is essential for ensuring a smooth transition and helps keep employees satisfied and productive.
There are a few key steps that companies should take when onboarding remote employees, including creating a clear communication plan, setting realistic expectations, and providing clear resources. Below are the 5 phases of onboarding a new remote working employee.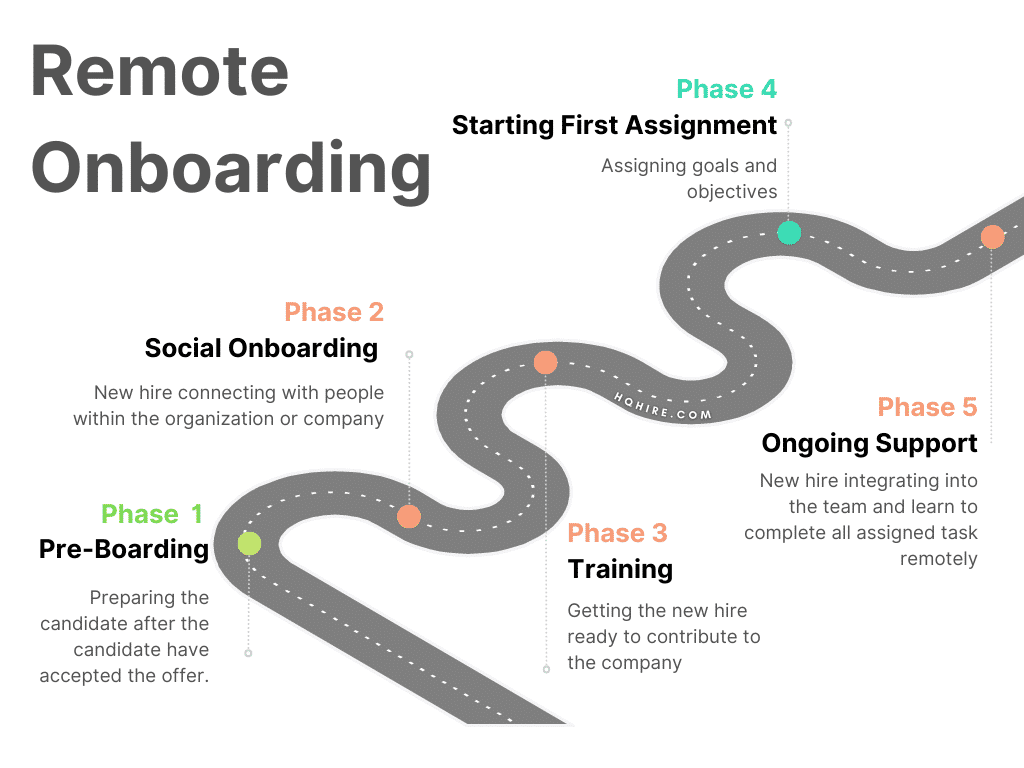 Phase 1: Pre-boarding
Pre-boarding is the process your company has when the candidate accepts their job offer, till the time when the new hire starts their first day of work in the company. The goal is to prepare the new hire both administratively and mentally for their first day.
Pre-boarding is a great way to mentally prepare your new hire on:
Understanding of the company's mission, vision, and culture.
Administrative issues such as; company accounts, emails, and documentation to be submitted to the government.
Technological issues such as laptops, company handphones, and other hardware are necessary to do the job.
As most new hires can feel anxious or even doubtful of their choice in joining a new company, preparing them for the onboarding process can help to ease these tensions and make their first day enjoyable.
Here are some ways you can help your new employee to transition from getting their job offer, to starting their first day at work: 
Send your new hire a welcome message by phone or by email. This will help them feel they are part of the team and will be more comfortable reaching out if required.
Provide your new hire videos or information to read about the company to allow them to understand the values and mission of the company.
Give your new hire a snippet of information on the company's culture and policy.
Get your HR counterparts to perform all the administrative work required for their first day at work.
Get your IT counterparts to prepare and sent the hardware required for them to work remotely effectively.
"Give me six hours to chop down a tree and I will spend the first four sharpening the axe."
― Abraham Lincoln
The pre-boarding process is a great time to help set the tone for your team to prepare for future challenges.
Recommendations: Do you know how to introduce yourself on your first day of work?
Phase 2: Social Onboarding
Social Onboarding is the process where new hires build social capital by connecting people to become valuable members of the organization or company. This is an essential process to acquire the necessary knowledge, skills, and behaviors that increase the return on a new hire.
Social onboarding generally occurs during the first 30 to 90 days of onboarding. 
This is especially important in a virtual environment. Good social onboarding can help to "humanize" the onboarding experience.
Here are some of the events that may occur during social onboarding:
Connecting new hires with the members of the company. New hires may be asked to make an introduction video with a list of guided questions. Matching a name to a face can help the new hire to integrate into the company or organization better.
Connecting new hires with others who are new. Getting the employees to get to know each other, whom they can relate to and support. Building a unique bond with those who are of the same 'cohort' or 'class' helps to develop a community that will last for a long time.
Connect new hires with a buddy. Getting a buddy to be the person whom you can easily approach and seek advice will probably be the best way to help integrate the new employee into the team. Studies shows, that this boosts 87% hiring proficiency.
Connecting new hires with their leaders. Getting the employee to understand the expectations and visions of their leaders will help to understand priorities and the team's objectives. Leaders may establish periodical one-to-one communications with the employees to answer questions and align expectations.
Connecting new hires with their mentors. Mentors are seniors that have been in the organizations or company for a long period of time. These are people who are generally at least a two-level hierarchy above the employee that can offer networking and career advice. A great mentor can help guide and nurture new hires in their career journey with their wealth of experience.
"We focus first on the people and how we incorporate them into our company, and then we focus on how to drive the business."

― John Chambers, Executive Chairman, and former CEO of Cisco Systems
Recommendation: Goals to achieve in your first year at your new jobs
Phase 3: Training
Even with experience, when your new hire steps into a new company, they will require some training to be productive in the role.
Get trained in the new process.
Get trained in the new procedures.
Get trained in the new system.
Get assessed for their competence after the training is performed.
Get qualified for the task prior to starting their role.
At the end of the first month of onboarding, your new hire will typically be trained in all the necessary skills and knowledge to start providing value to the team or company.
The time required to train a new employee depends on the job role and the company's regulations. Generally, it takes 2 weeks to train a new employee.
Job roles that have complex processes and requirements may require on-the-job training. The training can last from 1 month to 6 months.
Phase 4: Starting The First Assignment
At this phase of the onboarding process, your new hire is already equipped with all the necessary skills, knowledge, and connections to get the job done.
Typically, your new hire will reach this phase in the first three months of work.
You can assign goals and assignments to your new hire. This will give them a sense of progression and gain a deeper understanding of what they are expected to do.
Here's what you as the hiring manager can do:
Set key performance indicators according to the team's priories.
Set goals with your new hire using the S.M.A.R.T. or F.A.S.T. Goals methodology to give them a sense of ownership.
Set routine tier meetings with your employees and your new hire so that it may foster a team's sense of belonging.
Create a list of items to be accomplished for the first few months; a checklist or task board will be a good suggestion to keep new hires engaged.
Create an open communication culture for your remote employee, so that they can reach out and ask questions if necessary. This is especially important for new hires.
5. Ongoing Support
The toughest part of the remote onboarding process is the first 3 months. These 3 months are the important period where your new hire will need to integrate into the team and learn to complete all tasks remotely.
Essentially by the end of the third month, your new hire has already become a part of the family.
They are starting to understand their responsibility in the new role and have started delivering their deliverables according to their goals and the company's objective.
Nonetheless, the journey of onboarding doesn't end there.
"Onboarding will evolve into employee engagement and retention."
Ongoing support for employees in the workplace can help sustain, or boost employees' competence, and thus their level of interest in their work. Employees who feel valued and supported will perform better at work, and go the extra mile in performing their duties.
In other words, ongoing support is essential for improving employee retention and boosting employee job satisfaction at work.
82% increase in employee retention if the new hire experience a good employee onboarding experience.
88% of all organizations and companies have a bad or no onboarding process.
2 times more likely to look for new job opportunities if new hire faces a bad onboarding experience.
Recommendations: Does working from home actually saves our Earth? Work from Home Statistics You should Know!
Ready to Setup Your Own Remote Onboarding Process?
Starting a new job is mostly stressful; a new environment, a new way of work style, meeting new people, and finally meeting a new boss.
You can help your new hire to help integrate into your team by creating a smooth onboarding process.
With these 5 phases incorporated into your onboarding plans, you'll boost engagement, loyalty, and productivity, and even help retain your employees to grow with the company.
5 Phases of Remote Onboarding:
Pre-Boarding
Social Onboarding
Training
Starting The First Assignment
Ongoing Support
Recommendations: 3 Minutes Rule of Productivity
What Are Some Companies with Great Onboarding Experience?
Netflix
Netflix transforms the whole entertainment industry in just a few short years. Not only does it overtake Blockbuster as the greatest movie provider, but this company also has over 200 million memberships in more than 190 countries.
Getting its people prepared is what makes Netflix successful. Highly focus on the pre-boarding process, they set their new employees ready for the new challenges before day 1 of work.
On your first day of work, Netflix will engage new hires and let them make an impact.
Setting ambitious goals for achieving the company's mission, the onboarding process in Netflix can be exciting.
Stack Overflow
Stack overflow is a public platform for all coders with various backgrounds and technical skills to gather. It is a community-based space that helps its users to find and contribute answers to technical challenges that will change the online world.
Every new hire will be invited to an orientation call with members of the executive team to learn about the company's history, values, and overall goals.
Removing the communication barriers between employees and the decision-makers, Stack Overflow has one of the most unique onboarding experiences for the new hire.
Disney
Not that much on remote onboarding but love to put this on this list. Disney is not only a company that creates a dreamlike fantasy for children with characters such as Mickey and Minnie, but the onboarding process of Disney is also just as amazing.
New hires are not treated simply as employees, but rather as characters who will journey into the fantasy world of Disney;
Learning the history of Disney
Trivia games with prizes to be won.
Group activities with their favorite characters
Fostering the bonds between employees and the company, Disney is probably one of the best in giving the most amazing onboarding experience, we've ever encountered.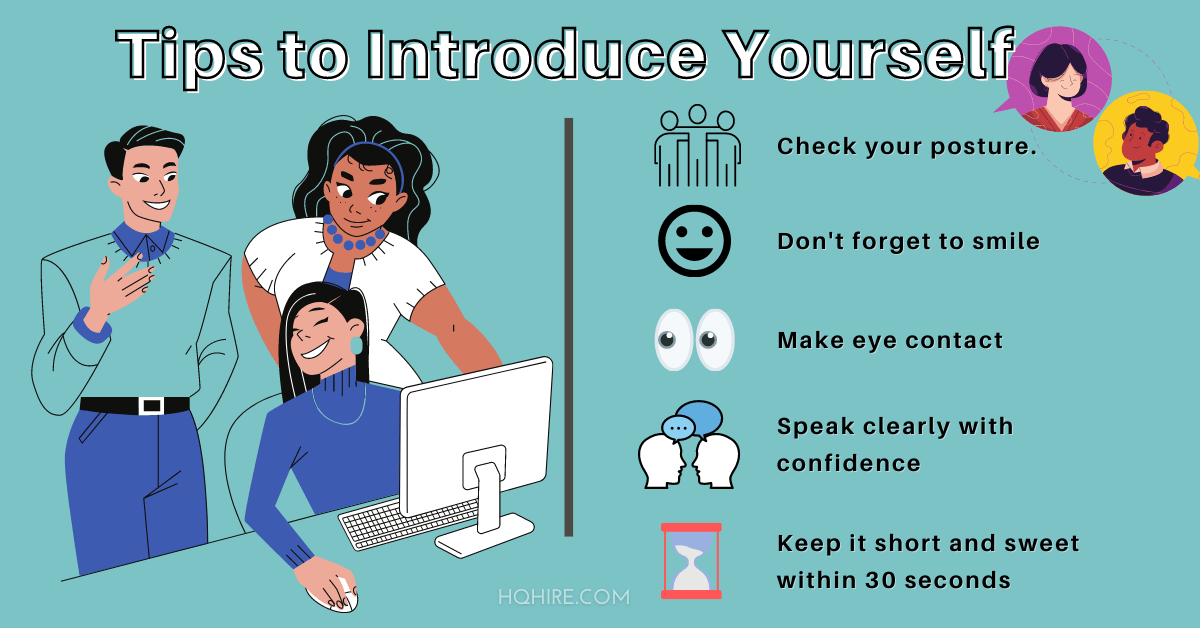 Up Next… How not be nervous on your first day of work?
Join over 3,000+ achievers who are committed to achieving their career goals!