Are you happy with your current job?
The most recent job satisfaction stats shows that more American workers are more happy with their jobs now than they were before.
Surprise?
Let's dive into some of these surprising job satisfaction statistics to have a better understanding of why!
Shocking World Job Satisfaction Statistics (Editor's Pick)
Employees who are satisfy with their job will have 55% spike in engagement.
96% of Employees thinks, empathy is the most important for employee retention.
Employees are 4.6 times more likely to perform better when they feel their voice are heard
Employees in managerial positions are 62% more likely to feel satisfied at their job.
Fully company-paid medical insurance is the most wanted benefit voted by 58.6% of respondent.
Simple benefits like free snacks can help improve the job satisfaction level of 37.3% of respondent.
Keys to employee satisfaction
Employees are 4.6 times more likely to perform better when they feel their voice are heard
The feeling of being heard and valued helps to empower employees to perform even better at work.
The two-way communication between the worker and the employer drives productivity. 
Studies have shown, companies voted to be the most gender and ethnic diverse consistently outperform their competition.
These companies have more diverse group of people invited to the table. They ensuring each voice are heard.
With an opened-mind, these companies incorporate a border range of perspective into their decision planning.
Allowing your employee to feel that their voice is being heard will improve job satisfaction and productivity.

This is a win-win formula for employee's retention and company's success.

– Antony C., Editor, HQHire.com
Employees are 63% more satisfy with their job, if they are being respected at work.
Survey by Harvard Business Review shows that, when employees are respected by their leaders, their job satisfaction level go up by 63%.
Then feeling of being respected is in correlation with the level of productivity seen in an employee.
Why?
According to Maslow's hierarchy of needs.
Being respected fulfil the fourth level of human needs.
Esteem needs is the sense of feeling respected at work.
By fulfilling this level of need, this helps to elevate the happiness level of a person, and thus job satisfaction.
96% of Employees thinks, empathy is the most important for employee retention.
The relationship build between the employee and the company is often the main factor for employee retention.
Forbes suggest that almost all employees view empathy as the most important reason why they should stay with a company.
Company should show empathy with it's people, encouraging employees to take vacations, providing health insurance, celebrating important moment of their life.
These simple actions can increase employee's job satisfaction and the quality of their work.
"Your work is going to fill a large part of your life, and the only way to be truly satisfied is to do what you believe is great work. And the only way to do great work is to love what you do."

– Steve Jobs, CEO, Apple
"Everyone talks about building a relationship with your customer. I think you build one with your employees first."

– Angela Ahrendts, Senior Vice President, Apple
work benefits job satisfaction survey
Top 10 Job Benefits Employees Want, But Don't Have
Fulfilling employee's want will help to increase their job satisfaction. Survey shows that 58.6% of all professionals survey hope their company will provide them with a fully company-paid medical insurance. That is 1 in 2 of all employees surveyed.
The need of feeling safe and being taken care off is probably what drive this overwhelming results of having a health insurance.
58.6% wants Fully company-paid medical insurance
53.2% wants Four-day workweek
53.1% wants Fully company-paid dental insurance
52.4% wants Unlimited paid time-off
47.2% wants Fully company-paid vision insurance
40.1% wants Work-from-home or remote working days
37.3% wants Free snacks
35.1% wants Performance bonus
32.7% wants Flexible paid time off
32.3% wants Transport allowance
Top 10 Job Benefits Most Company Gives
Survey shows that 72.8% of all professionals survey get paid time off as work benefit in their company.
Surprisingly 1 in 3 of the respondents don't get paid time off.
Possibly, these are odd job workers or hourly paid workers that don't receive paid time off. 
72.8% gives Paid time off
64.9% gives Retirement saving program
56.7% gives Free coffee
55.6% gives Partially company -paid medical insurance
45.9% gives Life Insurance
44.2% gives Partially company-paid dental insurance
38.8% gives Flexible schedule
36.7% gives Partially company-paid vision insurance
35.6% gives Performance bonus
34.0% gives Flexible paid time off
"Before you become a leader, success is all about growing yourself. After you become a leader, success is about growing others."

– Jack Welch, CEO, General Electric
pursuit of happiness maslow's hierarchy of needs
Humans have 5 level of needs that determine our human behavior. Starting from the lowest and most basic level of needs, to the highest and hardest to achieve.
Physiological needs: The first and the most basic needs. This is the need of basic human survival; food and water, rest, clothing and shelter, health, and reproduction.
Safety needs: The second level of needs help us to survive. Safety needs is the protection from danger, violence and overall emotional stability and well-being. The pursuer of good health, and financial security.
Love and belonging needs: The third level is the social needs related to human interaction. This is the the need of friendship, and family bonds. The need of physical and emotional intimacy with others. This can include the sense of belonging to a team, a company, a union, a club, a community. Sexual relationships are also in this category.
Esteem needs: The fourth is the first of the higher level of human needs that is ego-driven. This is the feeling of being respected, and having confidence in yourself.
Self-actualization needs: The highest level of needs is the fulfillment of your full potential as a person. This includes education, professional development, refining talents, or even achieving goals.
Fulfilling those human needs are the building block of personal's happiness and the construct of higher job satisfaction.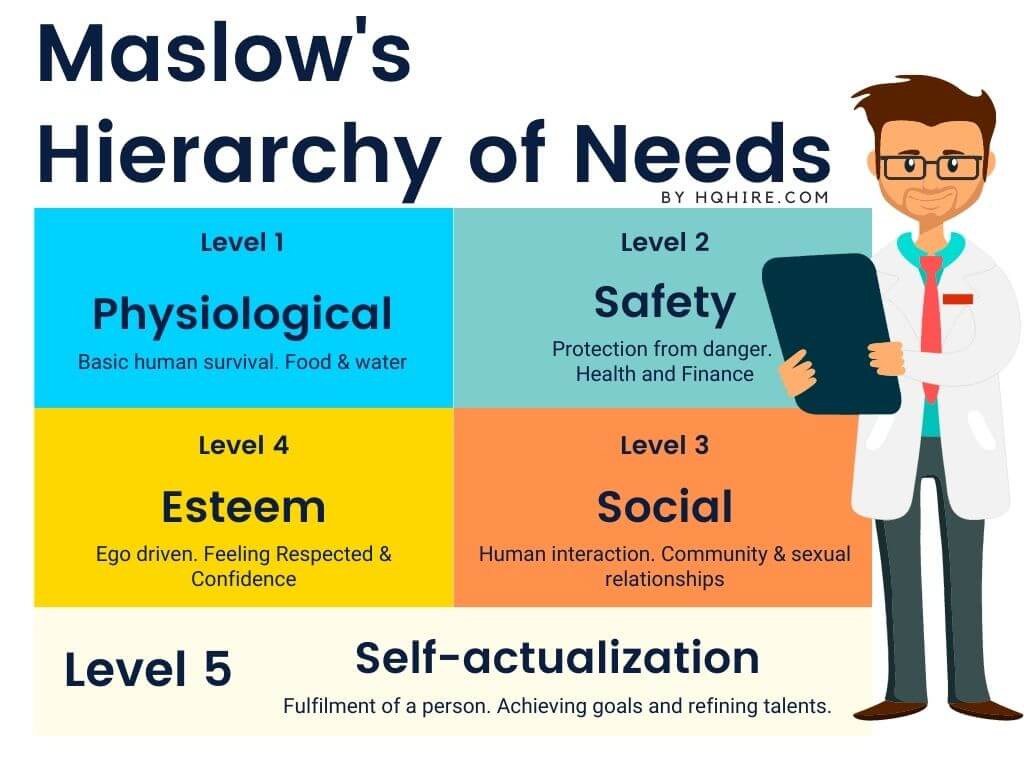 Your next step?
Uncover the age old question of "How much do you need to earn to be happy?"
Get your answer to this most asked question with the power of science!
We've One Question…
Did we miss out any interesting statistics you've may have know?
Or which statistics surprise you most?
Let us know in the comments below!
Join over 3,000+ achievers who are committed to achieve their goals!