Pregnancy is tough! Especially if you are a working mother.
Recent studies on 508 employed pregnant mothers shows:
56% of employed pregnant woman call in sick in the first 32 weeks of pregnancy.
1 in 4 employed pregnant woman took long-term sick leave of >20 days.
Lower back pain is the most common reason for calling in sick.
A study in Europe on 6686 pregnant woman shows,
Women using medications for acute illnesses were more likely to be on sick leave than their non-medicated counterparts.
Top 10 Reasons for Sick Leave During Pregnancy
1
Pregnancy Complication
26.5%
2
Pain in the neck, back, pelvic girdle
16.2%
3
Nausea, Vomiting
16.0%
4
Respiratory Infection
12.2%
5
Premature Contraction
11.9%
6
Work-Related or Work-Stress
9.2%
7
Sleep Deprivation
7.8%
8
Fatigue or Tireness
4.6%
9
Vaginal Bleeding
4.5%
10
Low Blood Pressure Dizziness
3.8%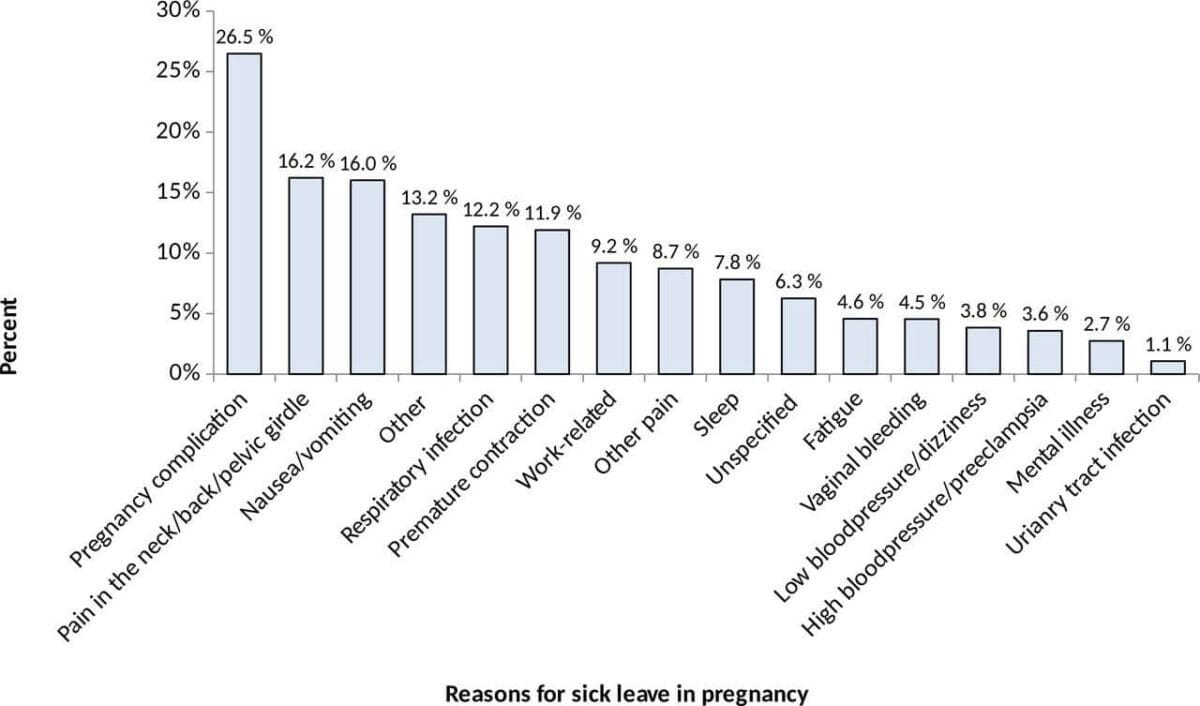 Read also: How to deal with pregnancy discrimination at work!
How to call in sick
Asking for sick leave can sometimes be quite troublesome. You are tired, dizzy and maybe feeling confused.
But it is important for you to convey your message to your employer clearly.
Calling in for a sick day should included the following information:
Reason for calling in for sick leave.
What responsibility are required to be covered when you are on leave.
Usually, employee ask for sick leave by 2 different ways:
Calling on the phone
Sending a text message
Example on what to say when you call in sick on a phone
"Hi [Employer], I woke up today feeling very dizzy, and I think I'm having a fever.
I am worried it will get worst and I don't want to infect my colleagues.
I think it will be best for me to take a day off and rest.
Should be able to complete my [Task] when I am back tomorrow.
I'll try to be on email as much as possible."
Example on what to text your boss to call in sick
"Hello [Manager], I am having a very bad back pain and my doctor has recommended me to take [No. of days] days off work to recover.
I hope I will be well enough to return to work on [Date].
I've texted [Your Colleague] with the things he/she may need to do in my absence.
I will be available by email for any pressing needs. Thanks."
"How does sick pay works?"

Check out this video below!
Disclaimer: We do not provide any family, health, financial, or law related advice. The publisher and the author make no guarantees of completeness, accuracy, usefulness, or timeliness. You accept any action you take upon the information on this site is strictly at your own risk. All information is based on personal opinion and experience and is for entertainment purposes only.
Like this post?
Let us know in the comments below!
Wait a minute…
Do you have a story to share?
Share your story with our community by Clicking "Submit Your Story" below!
Join over 3,000+ achievers who are committed to achieve their goals! 
Disclaimer: We do not provide any family, health, financial, or law related advice. This is a work of fiction and protected by copyright law. The publisher and the author make no guarantees concerning the level of success you may experience by following the advice and strategies contained here, and you accept the risk that results will differ for each individual. All the names, characters, businesses, places, events, and incidents in this site are either the product of the author's imagination or used in a fictitious manner. Any resemblance to actual persons, living or dead, or actual events is purely coincidental.