Pregnancy discrimination is everywhere!
It is true! Pregnancy discrimination can be hard to prove.
With so many types of pregnancy discrimination, these tips may help you to avoid the bad experience of being discriminated in the first place.
If you are concern with discrimination in your workplace, there are a few things you should do to protect yourself from pregnancy discrimination at work.
Follow these steps to prove you're facing pregnancy discrimination at work and win your case.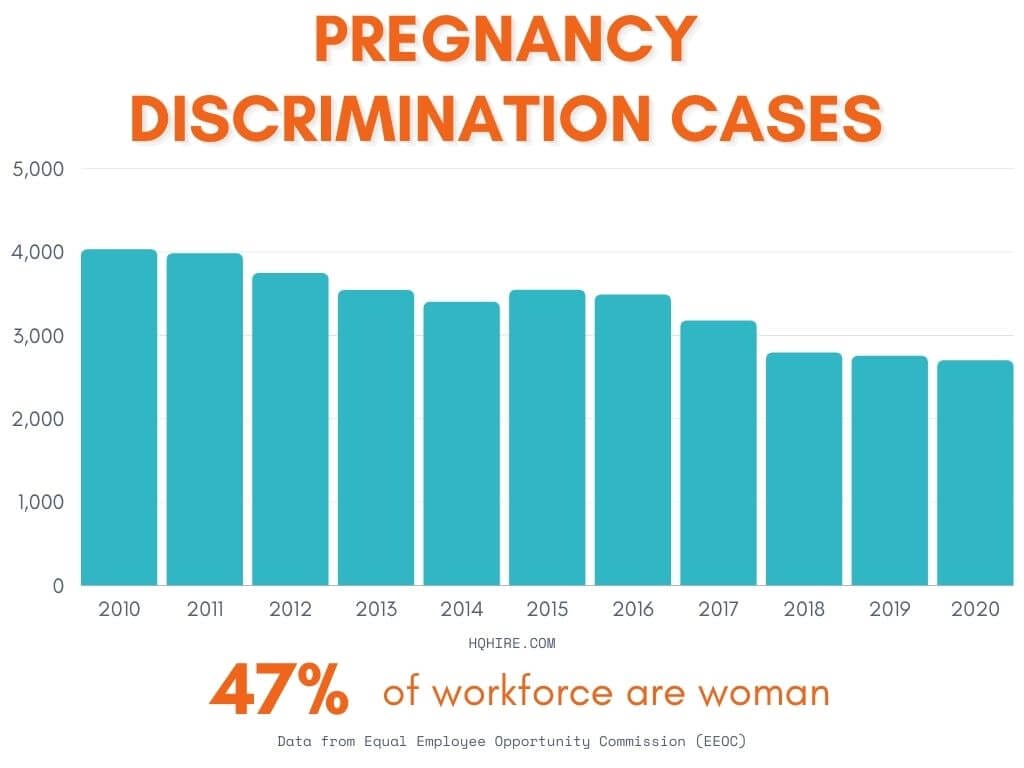 Pregnancy Discrimination Charges Recorded by United States Equal Employee Opportunity Commission (EEOC)
Year
New Charges Filed
Favorable Outcome
% of Favorable Outcome
Monetary Benefits (Millions)
2010
4,029
955
23.1%
$14.7
2011
3,983
1,059
23.1%
$13.9
2012
3,745
907
21.5%
$14.3
2013
3,541
848
23.7%
$17.0
2014
3,400
737
22.9%
$14.4
2015
3,543
859
25.0%
$14.8
2016
3,486
832
22.1%
$15.5
2017
3,174
815
21.6%
$15.0
2018
2,790
772
23.1%
$16.6
2019
2,753
745
24.9%
$22.4
2020
2,698
717
25.0%
$15.3
Here is how you can deal with pregnancy discrimination at work!
Steps Expecting Mothers Can Take
Not all companies are accommodating to pregnant workers. If you are face with such a situation, you can take a number of actions to protect yourself from pregnancy discrimination.
1. You'll benefit from understanding your company's policy
Find out your company's stand on pregnancy discrimination.
"Does your company have policy that protect expecting mothers from pregnancy discrimination?"
"Does your company enforce their policy to make you feel safe at work while you are pregnant?"
Above are some questions you may want to ask when you are looking at your company's policy.
Nonetheless…
For most company, you can probably have your enquiry answered from your Human Resource department.
You might be comforted to know that, your company is required by law to prevent pregnancy discrimination.
The Pregnancy Discrimination Act (PDA) states:
"Employer forbids discrimination based on pregnancy when it comes to any aspect of employment, including hiring, firing, pay, job assignments, promotions, layoff, training, fringe benefits, such as leave and health insurance, and any other term or condition of employment."
You might be pleasantly surprise that your company have policy that ensure their pregnant worker are protected at work.
2. Get a work log or work dairy
Ya… I know that's a lot of work.
But a work log is important for you to keep track of all your achievements and contribution at work, if you want to be protected from pregnancy discrimination.
These are some things you may want to keep track:
Performance review.
List of projects you handle.
List of achievements you've completed.
List of awards you've received.
Letter of recommendation.
You may want to included the date for each of the achievement and contribution at work as well.
Why the trouble?
Work log is important because employers will often justify the reason of your treatment by citing your recent poor job performance.
With your work log, you are able to show evidence of your performance.
If required, the work log may help to increase the possibly of you winning the case that your employer is discriminating against you for being pregnant.
3. Follow your company's practice
Every company have their own procedure to follow for communicating leave or accommodation request.
Thus, it is important for you to follow the company's protocol.
Here are some things to take note:
Make photocopies of the paper work for each of the application.
Make photocopies of your MC or doctor's appoint slips.
Keep email communication sent as an evidence of the approval or request. You can do this by printing the email out and file it as accordingly or simply make a BCC. (Blind Carbon Copy) to your personnel email as an evidence.
These documents will support any future claims or complains you may file, if you suspect a violation of Pregnancy Discrimination Act (PDA).
4. Take Care of Your Mind and Body
You are responsible of your own well-being. Avoid putting yourself under high level of stress. You have to know your limit and be conscious about your own self-care.
Set realistic deadlines for each of your task.
Break each of the task into smaller pieces.
Ensure you give yourself sufficient mental break before moving to the next task.
Give yourself some "rest time" after each milestone achieved.
If you always find yourself rushing to work, try leaving for work 10 to 15 minutes earlier.
This simple change can help you ease into your workday, allowing you to be both mentality and physically prepared for the day ahead.
Lastly, unplug yourself from work and all work related communication at the end of the day.
Setting the right boundaries can help protect your personal "me" time, which is essential for you to recover from your hectic workday.
"Take good care of your mind, and your mind will take care of your body."
5. Prioritize Your Health Over Your Job
Know that your health and wellbeing is always much more important than your job.
Never compromise your mental or physical health for your job even if your employer ask for it!
Always perform your own evaluation of your task and decide what is reasonable while you are pregnant.
If you find your employer is over demanding, you may want to negotiate with your employer over the task assigned.
Most importantly, if you believe the task will impact your personal health, be prepared to put your foot down!
But in most cases, your employer don't know the problems you are currently facing, unless you tell them.
Smart employers will always take good care of their employees.

Simply because, if they take good care of their employee, their employee will take care of the company.
Thus, good communication with your employer is always important.
How to file a complain?
If you believe that you are being victimized at work because of your pregnancy, you may approach respective organizations for help:
If you are from the United States, you can get help from EEOC, but there are a few things to consider:
You need to file your complain within 180 days of the discriminatory act.
You need to have written notes that list down everything that happens; place, date and time, description of the incident, possible witness.
Keep copies of the notes at a safe and secure location.
Alternatively, you can talk to an union representative and seek their advice.
Finally, on some rare occasions, you may want to seek professional legal help from an attorney to file a discrimination charge.
"Is there Pregnancy Discrimination?"

Check out this video below!
Disclaimer: We do not provide any family, health, financial, or law related advice. The publisher and the author make no guarantees of completeness, accuracy, usefulness, or timeliness. You accept any action you take upon the information on this site is strictly at your own risk. All information is based on personal opinion and experience and is for entertainment purposes only.
Like this post?
Let us know in the comments below!
Wait a minute…
Do you have a story to share?
Share your story with our community by Clicking "Submit Your Story" below!
Join over 3,000+ achievers who are committed to achieve their goals! 
Disclaimer: We do not provide any family, health, financial, or law related advice. This is a work of fiction and protected by copyright law. The publisher and the author make no guarantees concerning the level of success you may experience by following the advice and strategies contained here, and you accept the risk that results will differ for each individual. All the names, characters, businesses, places, events, and incidents in this site are either the product of the author's imagination or used in a fictitious manner. Any resemblance to actual persons, living or dead, or actual events is purely coincidental.