Are you a fresh graduate looking for job?
Amount many other problems encountered in applying for a job, the lack of experience is probably why fresh graduate find it difficult to get a job.
Why we know?
Recent studies shows that,
"91% of employers prefer their candidates to have work experience, and

65% of them prefer their candidates to have relevant work experience."
Today, we will look into a few things a fresh graduate should know when looking for a job.
Here are some of the best career advice for fresh graduates with no job experience like you to get employed fast.
1. Clean Up Your Social Media
According to a recent survey, 70 percent of the employers use social media to screen candidates during their hiring process.
Although your hiring manager is unlikely to ask you for your social media account, or ask personal questions during the interview.
You can be pretty sure that someone in the company have checked your social media account. They do have an idea of what kind of person you are in your personal life prior to asking you to come for interview.
With the current technology and the habit of posing almost everything on Facebook, Twitter or TikTok. It is really easy for anyone to know more information about you.
Who you are in your social media is especially important if the hiring decision is on the fence.
Thus, if you want to increase your chances of getting hired as a fresh graduate.
Do a quick clean up of all the drunken photos you've taken during your parties. If you think the online behavior you have online will shock your future employer. Remove them.
What to "Clean"?
No Swear Words.
No Scandalous Photos.
Avoid Political Contents.
2. Build a Professional LinkedIn Profile
LinkedIn is the most popular tool that recruiter uses when sourcing for candidates. With over 87% of recruiters regularly using LinkedIn. Over 122 million people have received an interview through LinkedIn. Furthermore, 35.5 million have been hired by a person they connected with on the site.
"29.1% of the candidates successful get hired through LinkedIn"
LinkedIn User Statistics
| Rank | Country | Users (Millions) |
| --- | --- | --- |
| 1 | United States | 170 |
| 2 | India | 70 |
| 3 | China | 60 |
| 4 | Brazil | 45 |
| 5 | United Kingdom | 29 |
| 6 | France | 21 |
| 7 | Canada | 18 |
| 8 | Indonesia | 17 |
| 9 | Mexico | 15 |
| 10 | Italy | 14 |
One of the main reason why recruiters like to use LinkedIn when recruiting potential candidates is because,
"Employees sourced through LinkedIn are 40% less likely to leave the company within the first 6 months."
Similar to how your acquaintance get to know more about you on Facebook and Twitter. LinkedIn is where recruiters get to know more about your professional life and your career journey.
To get yourself notice, all you'll need to do is to build a strong LinkedIn profile.
What to include in your LinkedIn Profile?
Past working experience
Education Level
Professional Certifications
Recommendations
Relevant Skill Sets
Volunteering Experience
Interest
As a fresh graduate with no working experience. You may want to talk more about any leadership experience you may have, or participation in any activities that might be relevant to your industry.
If you have any internship experience, put that as your "work experience", you can change that later when you've gotten your first job.
As a job seeker, you should included any terminology related to the role you are looking for.
Example:
If you are a science graduate who is looking for jobs related to clinical research.
Do include terminology such as; research, life science, clinical, analytical skills etc.
By including terminology that is relevant to your industry, recruiters will have easier time finding your profile in LinkedIn.
The recent studies suggest that, LinkedIn is current having over 500 Million users world wide and will grow to 1 Billion users in the next few years.
3. Ask for Internal Referrals
Internal referral is probably the easiest way for a fresh graduate with no job experience to get hired.
Many companies have an internal referral program available to find prospective job candidates. This recruitment effort is done through recommendations by their existing employees.
Employees are usually incentivized for any successful hire from their referral.
According to the recent studies employee are given $2,500 as referral bonus on average.
So, if you know someone within your social circle, or classmates who are employed in a company that you'll want to work in, do not be afraid to ask for referrals.
According to a recent studies on Employee Referral Statistic.
4X more likely to get hired if recommended through referral.
$2,500 employee referral bonus on average
$7,500 saved for the company per hired employee referral.
82% of Employers rated Employee Referrals above all other sourcing options.
35-40 days for an Employee Referrals to fill a job through referral, compared to 60 days for employees sourced through job boards.
45% of employees sourced from employee referrals stay for longer than 4 years, compared to 25% of employees sourced through job boards who stay for over 2 years.
How to ask for a referral?
Before asking for a referral, you'll need to know if your skills a good fit for the position.
If you've check the Job Description (JD) and have concluded that you are a perfect match for the position, you can probably ask for the referral by saying something similar to this.
"I saw on your company's career page that you are hiring a UX Design Engineer.

Do you mind if you can check out my resume and see if you can refer me to the position?"
4. Be Open To Contract Position
Although most people prefer to apply for a permanent position. When you are a fresh graduate with no work experience, your options are very limited. Taking up a contract job might be a good option.
The future of jobs in 2030's and beyond will be much more different than it is in 2020's
With the popularity of work-from-home jobs, companies have evolved to take a more agile approach to meet the market needs.
Contract jobs have been increasingly popular with companies who wish to have a flexibility of upscaling and downsizing according to business needs.
Cons of Contract Position
You'll need to recontract or find a new job after the contract ends.
Lack of job security.
Less benefits compared to permanent employees
Pros of Contract Position
Less competition for the position.
Entry ticket to renown companies such as, Apple Inc. 
Potential higher salary.
Possible contract completion bonus.
Potential pay increment upon renewal of your contract.
Contract jobs can be an entry ticket to join the company. Not only they'll provide you with all the training, you'll gain relevant work experience in the specific role.
Often, if you've performed well in your job, when there is an available vacancy, there will be an opportunity for you to convert to permanent employment.
5. Seek Help from Recruitment Agencies
Recruitment Agencies don't only offers part-time jobs or freelance jobs. Many recruitment agencies help their clients to source for full-time position as well.
More companies are seen outsourcing their recruitment effort to recruitment agencies. There are many recruitment agencies specializing in different industry, where they help their clients to find the right candidates for the job.
As most recruitment agency earn a commission from their employer, so engaging in their service will not cost you. But as it is commission based, be mindful not to take up any position that you qualify but does not interest you. Only you will know what suit you best.
Even when you are desperate for the job, always think carefully before you sign the dotted line.
6. Personalized Your Cover Letter
Cover letter is used to interest the employer in reading your resume. As it takes an extra effort to write and personalized a cover letter, not all applicant do have a cover letter.
"Good cover letter can give job seekers like you an extra edge among the sea of applicants." – A.C.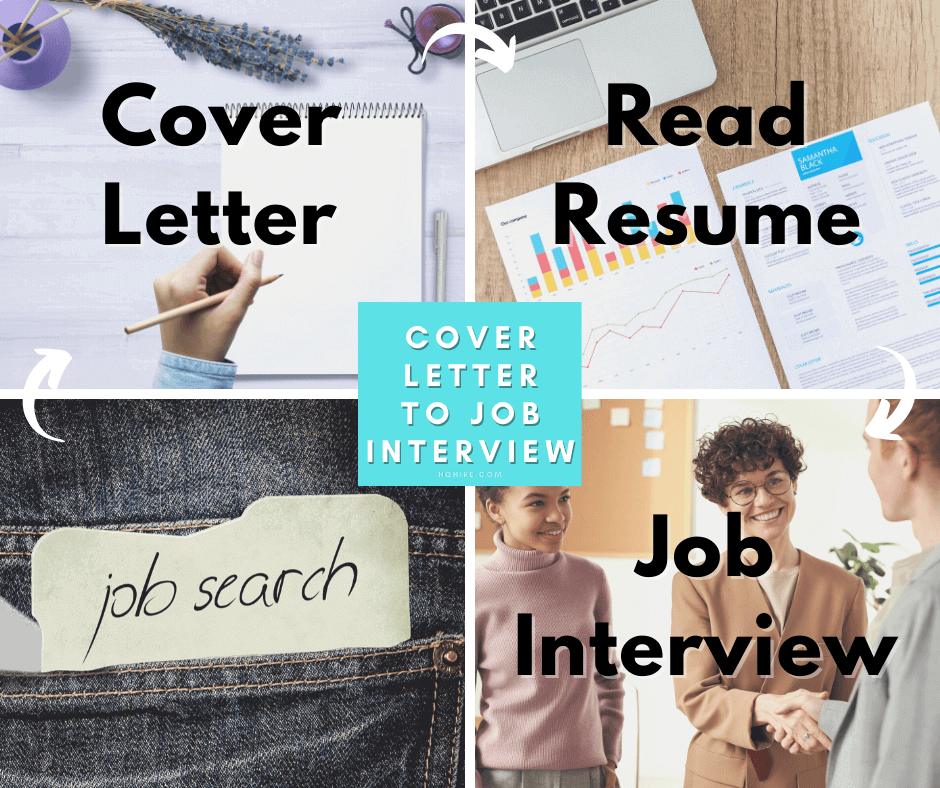 Diagram of Cover Letter to Interview
The simple structure of writing a good cover letter is as follow:
Introduction: State why you want to pursue the position?
Body: Why are you qualified for the position?
Call-To-Action: How you intend to follow up?
With the examples and template on cover letter in hqhire.com, you can find the detailed explanation on how to structure and personalized your cover letter.
"What the cover letter is doing is presenting your potential employer with your expertise as well as how well you communicate." – A.C.
7. Customize Your Resume
Resume is important tool for your job hunt because it offers a quick display of your top skills and qualities in one of two page. Resume is what helps potential employers in making hiring decisions and help you get your first interview.
"61% of hiring managers consider a customized resume the No.1 way to increase their chance in getting hired."
That's why, it does matters how you structure your resume and what information you decided to include.
There are 2 types of resume:
Chronological Order Resume – Traditional resume where you included work experience and education both sorted by chorological order.
Custom Resume – Prioritizes relevant education and experience. Usually used for someone who is changing careers or is new to the workforce such as a fresh graduate.
As a fresh graduate, you'll prioritizes all your relevant education and experience in your resume.
Here are some point you may want to consider.
Professional Objective
You may want to highlight your intentions and accomplishments in less than 150 characters. Be specific so your hiring manager will know the career direction of your resume.
Lately, tailor this to each organization and position.
Qualifications
Here you may want to highlight your most important attributes where you can provide value to the company.
Technology proficiency
Languages
Highest Achievements
Relevant Experience (If any)
Education
As a fresh graduate, you may want to list your highest level of education first. Include the name of the college, degree, major and year of your graduation.
If you are a scholar, have relevant course work, participate in major research projects, or have an exceptional GPA, do state in your resume as well.
Experience
As a fresh graduate, you may not have the work experience, or the relevant work experience. Just include your internships and possible work experience that can relate to the job you are applying.
If you have sales experience working part time, you can relate this to communication skills.
If you have military experience after serving the army, you can relate this to leadership and stress management skills.
List position title first, follow by the name of the organization, location, date and duties.
Software Engineer Intern
Google Inc., San Francisco,  CA., May 2020 – Dec 2020
Worked in Google Drive Team developing infrastructure for improve storage in the cloud system.
Rewrote ABC app, provide smooth personalized experience for users.
Create an open source system as an extra project to power Google Intern Associate, after which Larry Page presented to the company during the weekly meeting.
Join over 3,000+ achievers who are committed to achieve their goals!